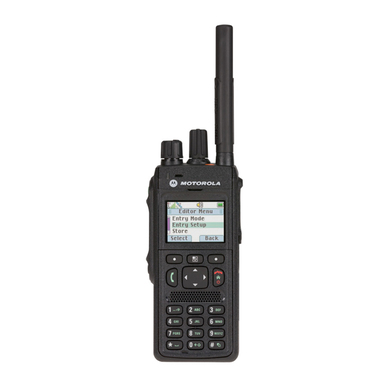 MTP3500/3550 TETRA Radio
Deisgned to work in the toughest, most demanding environments, day in, day out.
The MTP3000 Series radios are the result of more than 15 years of focus in TETRA on increasing user safety, enhancing efficiency and improving communications. The radios are packed with features which are essential for safe and effective operations, as well as significant improvements in areas such as audio and ruggedness.
STAY IN TOUCH
Be safer and more effective with greater coverage and in-building performance with high sensitivity and power.
STAY SECURE
Be secure with Air Interface Encryption or End-to-EndEncryption to prevent unauthorised access.
HEAR AND BE HEARD
Outstanding audio means you can be safe and effective in the most noisy and difficult environments.
ENHANCE YOUR SAFETY
Know that your officers or workers are safe with man down.
Safer. Tougher. Easier to use
Superior audio and increased range. Durable connectors and rugged design. Intuitive hardware and software features.



FAST WIRELESS PUSH-TO-TALK
A wireless Push-to-talk (PTT) device can be used when protective clothing makes it
difficult to reach the radio quickly or the user wishes to remain covert.

REMOTE CONTROL
A smartphone can be used to remotely control the radio, making or answering calls,
changing talkgroups or other settings through the secure Bluetooth connection.
Particularly useful when the end user needs to be discreet or even covert.

BARCODE SCANNER
A barcode scanner with a serial port profile can be linked to the radio and used to check
suspect vehicles, identity documents or hazardous packages. To speed up identification
and save valuable time, the user can transmit information to be checked against a
database and quickly receive results directly to the radio.

HEART RATE MONITOR
A heart rate monitor can be connected to the radio and used to detect if the officer or
worker is at risk of heart problems or failure. Status messages can be sent over the radio
alerting control of any issues.

INDOOR LOCATION
Bluetooth beacons in high value buildings can be used detect the presence of the radio
and ensure easy location of the officer or worker during an incident.
Police
Security/Surveillance
Fire & Rescue
Transportation
Manufacturing
All articles
+
Show all datafields
-
Hide datafield
| Choose amount | | | | | | |
| --- | --- | --- | --- | --- | --- | --- |
| | MO163401 | MTP3500 350-470MHZ PTB952F wi | Portable Radios | TETRA | Portable | IP 65, IP 66, IP 67 |
| Choose amount | | | | | | |
| --- | --- | --- | --- | --- | --- | --- |
| | MO163401 | MTP3500 350-470MHZ PTB952F wi | Portable Radios | TETRA | Portable | IP 65, IP 66, IP 67 |
MTP3500 350-470MHZ PTB952F wi
Type of product
Portable Radios
Operating environment
Portable
IP class
IP 65, IP 66, IP 67