Is lighting needed below the surface?
Yes! For several different reasons, it is more important than ever to have a well-functioning and adapted underwater lighting. Safety and functionality are of course the most important aspect, but lighting is also a part of water attractions.
Safety in swimming pools
Underwater lighting that effectively illuminates the bottom of swimming pools increases the possibility of visually identifying people at the bottom of the pool, partly for the staff but also for other bathers who can easily detect something suspicious and alert staff. Many existing baths, especially older ones, have substandard underwater lighting where they try to supplement with lighting above the pool.
The problem with this is that it partly lowers the "cosy factor" but above all that it is difficult to push the light down to the bottom of the pool. Most light tends to be reflected on the water surface. To achieve the best possible results, the luminaires should be mounted below the water surface and be horizontally asymmetrical so that they push the light down to the bottom directly.
In larger pools with a deep section it's very important to be able to illuminate the entire pool and allow the light to be reflected upwards from the bottom.
Older pools with culverts often have a simpler solution with underwater windows embedded in a niche where a construction spotlight or equivalent is hung at the rear edge. The result is not so satisfactory because a large part of the light radiates straight out and never reaches the bottom. We usually compare this to trying to illuminate the backyard at home by placing a spotlight on a table two meters upstairs, they will not be as good as you want.
Drowning alarms are a good complement to the human eye, both in existing baths and new constructions, but once you are there for a rescue operation, it is incredibly important to be able to see what is happening below the surface.
With intended and adapted underwater luminaires, the entire pool can be illuminated efficiently and identification of people on the bottom can be facilitated.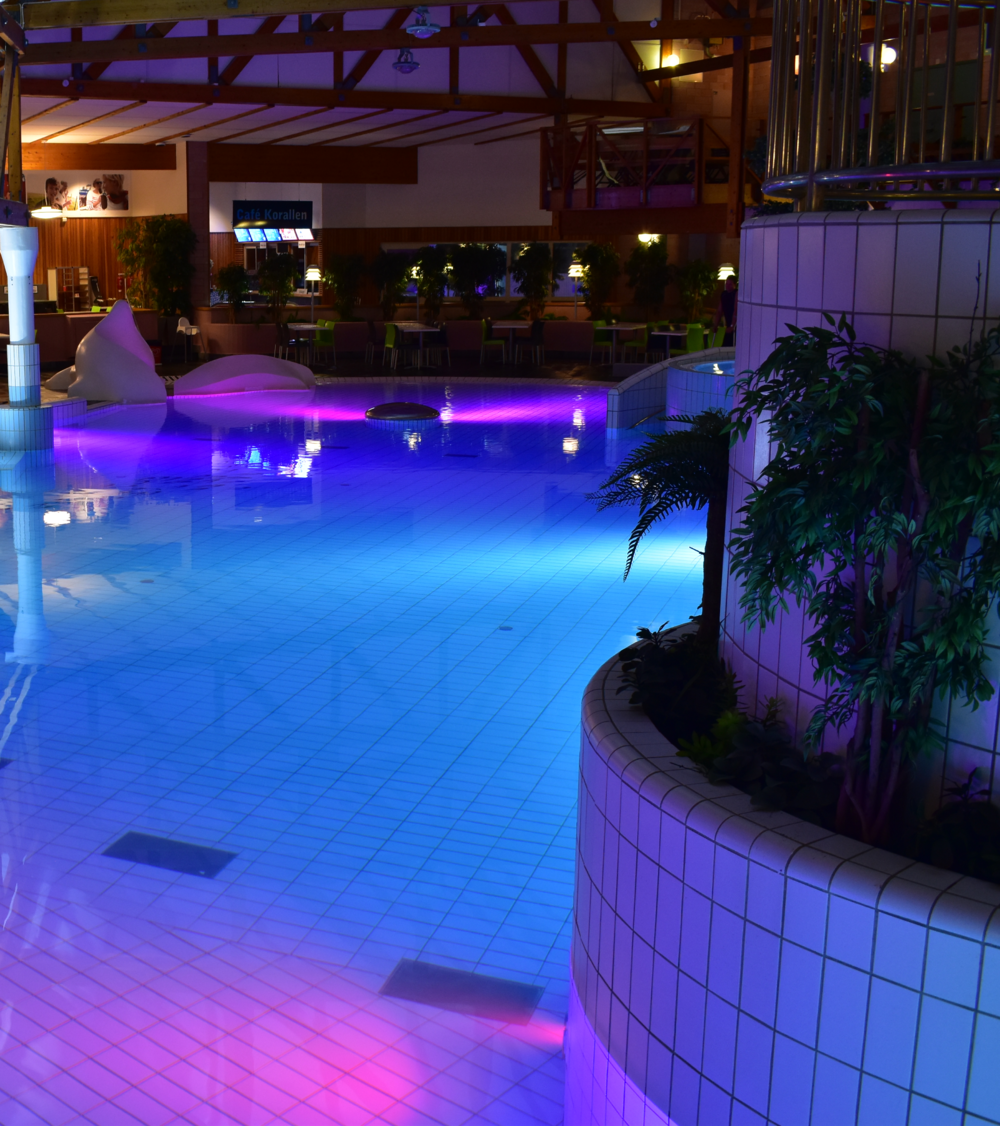 Well-being and experience
A good underwater lighting not only provides safety but also increases the well-being and experience for visitors. Other general lighting can be dimmed to provide space for the underwater lighting. Since most swimming facilities have large windows, this obviously gives the most effect when it is evening time and no daylight / sunlight to compete with. In adventure water facilities we work mainly with LED light sources where the possibility of using color-changing RGB / RGB-W luminaires means that you can easily create the most effective environments, both above and below the water.
Nicely designed color-changing RGB / RGB-W lighting both above and below water and especially in interaction with each other is without a doubt an attraction itself and contributes to increased well-being and experience for visitors. Kokpunkten in Västerås is an excellent example where they have taken great advantage of the opportunity to let all lighting interact for an attractive experience. The picture is from Storsjöbadet in Östersund after replacement with retrofit RGB-W luminaires.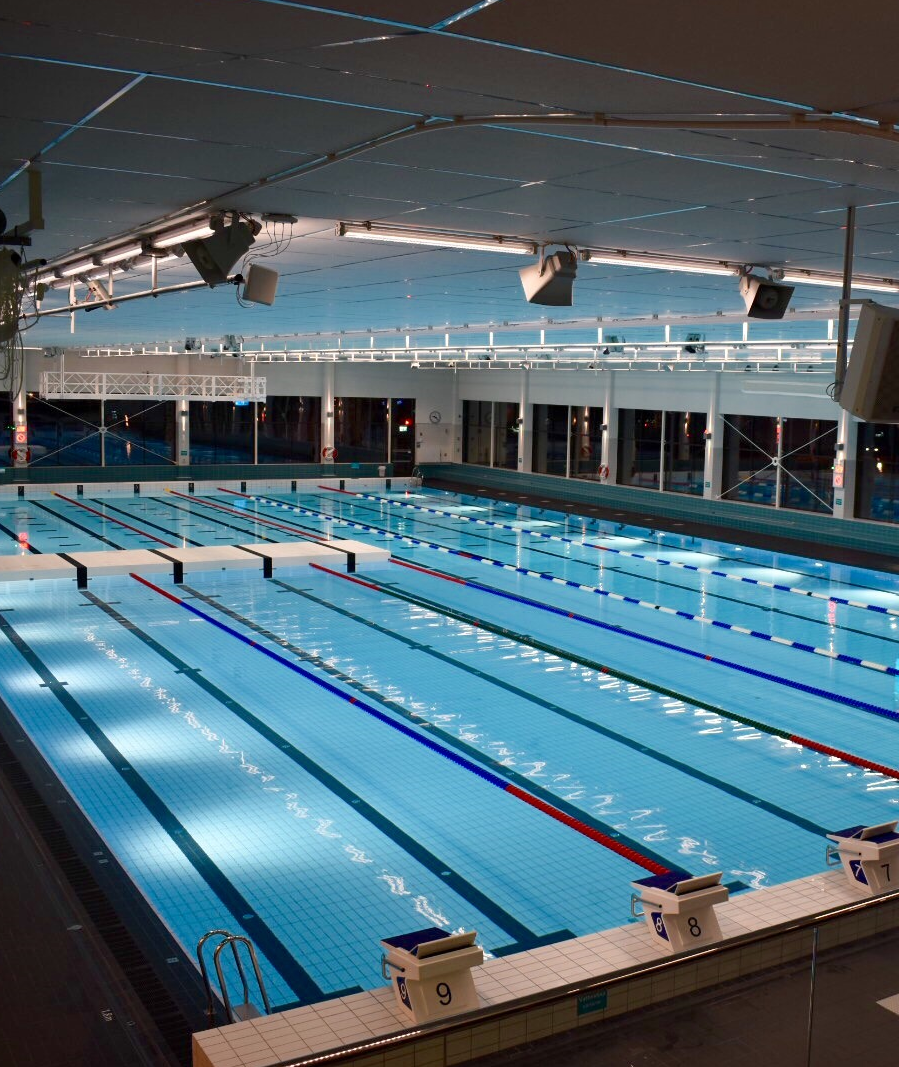 Energy efficiency and maintenance
A few years ago low-voltage halogen and metal halide were the two light sources mostly used. Low voltage halogen in adventure parts / rehab etc. and in pools that lacked culverts. In larger basins with culverts and possible depth sections, metal halide luminaires with continuous mounting were installed at best.
In large exercise pools with depth and culvert, it is safety and functional light that is most important. An installation with intended metal halide luminaires or LED and white light is the best solution for most light per consumed watt. The alternative is to combine functional light with effective color-changing RGB-W lighting.

In smaller pools and adventure pools, it is almost exclusively LED luminaires with installation from the water side that are used today. High-efficiency LED luminaires with a long service life and minimal maintenance are what is used in most cases. Retrofit luminaires to replace old existing halogen luminaires regardless of make are available, they both reduce energy consumption and provide better light.
Choice of luminaires and placement
In order to know the type of lighting you should choose, it is always best to start with the purpose for which the pool is to be used. Exercise and competition pools usually require powerful and functional lighting, especially in pools with a deep section.
In adventure parts and rehab pools, functional lighting is usually required in combination with well-being and experience. Therefore it is usually LED luminaires that are used with the advantage of RGB-W luminaires where it is possible to choose both color change and white light in the same luminaire. Color-changing luminaires should be used in "abundance" as it is usually best when there is clearly colored water and not just in parts of the pool
Reflections against the bottom and walls are an important thing to keep in mind when placing luminaires, in general it can be said that it is easier to get a good lighting result with light pool material because it is easier to distribute the light with the help of reflections.
Darker pool material is also nice in itself but at the same time it "eats up" the light and makes the light source itself appear clearer, which means that about 40% more light flux is required to achieve an equivalent result. It is often an advantage to use more light points to get a more even lighting as reflections do not occur in the same way as in a light pool.
Bottom installation of luminaires in pools gives an effective result in the pool area's roofs, especially at higher ceiling heights and light roofs. The movement of the water surface and the refraction of light creates a very nice and effective reflections against ceilings and walls above the surface.
For wall mounting, the luminaires are generally placed approx. 600-1000 mm below the water surface and if possible so that they are directed from the viewer's eyes. In larger basins however, it is often necessary to place the luminaires from several sides, preferably the long sides.
What type, how many and what is required?
There are no real standards for underwater lighting and its intensity, but it is often the lighting just above the water surface that is required. However, there are often general local recommendations and requirements for different types of purposes and pools.
The interpretations of what is considered good underwater lighting are unfortunately several and of course different depending on which party interprets. When we make our designs and lighting proposals, we start partly from our many years of experience and from our reference systems combined with a lighting calculation based on lumens / m².