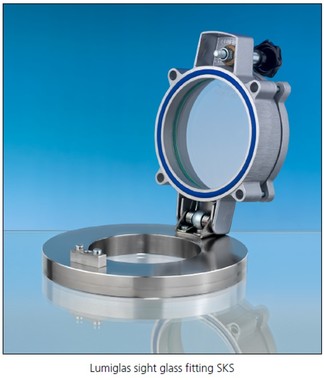 SKS Opening sight glass assembly
Opening and hinged SKS sight glass assembly for unpressurised applications. In addition to process monitoring, can also be used as a sampling and/or inspection hatch in diverse industrial applications.
Also excellently suited for food industry processes.
Size: Opening 136 mm (SKS150) or 205 mm (SKS225)
Can also be delivered without a body flange!
All articles
+
Show all datafields
-
Hide datafield
| Choose amount | | |
| --- | --- | --- |
| | PA020200300 | SKS150 AVATTAVA, LAIPPA 1.4571/SODALIME/O-RING SILICON |
| | PA020201300 | SKS225 AVATTAVA,LAIPPA 1.4571/SODALIME/O-RING SILICON |
| Choose amount | | |
| --- | --- | --- |
| | PA020200300 | SKS150 AVATTAVA, LAIPPA 1.4571/SODALIME/O-RING SILICON |
| | PA020201300 | SKS225 AVATTAVA,LAIPPA 1.4571/SODALIME/O-RING SILICON |
SKS150 AVATTAVA, LAIPPA 1.4571/SODALIME/O-RING SILICON
SKS225 AVATTAVA,LAIPPA 1.4571/SODALIME/O-RING SILICON