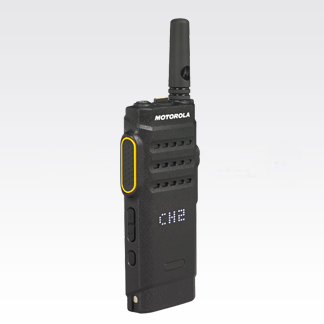 MOTOTRBO™ SL1600
The MOTOTRBOTM SL1600 provides reliable push-to-talk communication for the mobile, everyday user in an ultra-slim and rugged profile. Whether you're coordinating stewards at an event or managing workers in the field, the SL1600 is boldly designed to keep you efficiently connected.
Dust- and waterproof
IP54-rated.
It features design for professional use, and the SL1600 is lightweight, very thin (22 mm) and has a short aerial available, so SL1600 is fits well inside a pocket. It offers an opportunity to browse through up to ten different radio channels very quickly.
Portability and simplicity redefined

Ultra slim profile
At only 22mm thick,, the SL1600 is ultraportable. A stubby antenna, curved edges and rugged frame make the SL1600 the perfect work partner. It can be easily carried in pockets or bags without snagging or bulging.
Advanced technology
The SL1600 is outfitted with the latest technology for performance and ease of use. The shatterproof Active View display uses a matrix of LEDs behind the radio housing to communicate status information and shuts off when not in use to conserve battery life. The SL1600 also features Range Max technology: an advanced radio design and patented antenna which delivers enhanced range while maintaining a slim profile and long battery life.
Simple operation
The SL1600 has been designed for easy, intuitive use. The side volume control, dedicated power button, prominent pushto-talk button, and top toggle channel switch have all been designed for quick one-hand access. Channel "fast toggle" allows users to scroll through 10 channels at a time.
Rugged and reliable
The SL1600 is built to last. IP54 rated for dust and water resistance, it can be used even in harsh environments. This radio can survive many drops and tumbles. It has also been proven tough in Motorola's grueling Accelerated Life Test, where the radio is tested against a simulated 5 years of hard service before it is accepted.
All articles
+
Show all datafields
-
Hide datafield
| Choose amount | | | | | |
| --- | --- | --- | --- | --- | --- |
| | MO170502 | MOTOTRBO™ SL1600 | Portable Radios | VHF, UHF | Portable |
| Choose amount | | | | | |
| --- | --- | --- | --- | --- | --- |
| | MO170502 | MOTOTRBO™ SL1600 | Portable Radios | VHF, UHF | Portable |
Type of product
Portable Radios
Operating environment
Portable