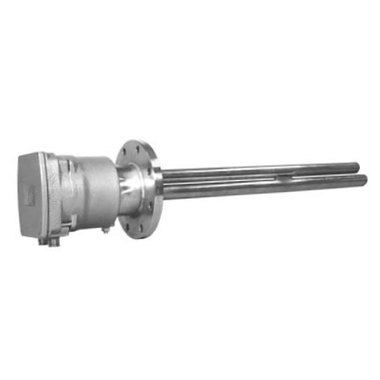 DH..B.. Heaters, with B-series connection box
DH..B.. electric heaters/immersion heaters with fixed resistors or replaceable resistors in a sheath.
DH..B-series heaters feature Exd/Exde-certified connection box of painted cast iron. Max 160A.
The heaters are equipped with temperature control and limiter thermostats or sensors. The connections are in an Exce connection box to ensure ease of installation and maintenance. The starting point is that the heater is made "customised" to match the customer's process and other requirements.

All articles
+
Show all datafields
-
Hide datafield
| Choose amount | | | |
| --- | --- | --- | --- |
| | ET10137251-30 | DHF22B03GG-3-T4 LÄMMITIN 3kW, L=700mm,2xPt100 | Immersion heater |
| Choose amount | | | |
| --- | --- | --- | --- |
| | ET10137251-30 | DHF22B03GG-3-T4 LÄMMITIN 3kW, L=700mm,2xPt100 | Immersion heater |
DHF22B03GG-3-T4 LÄMMITIN 3kW, L=700mm,2xPt100
Type of product
Immersion heater