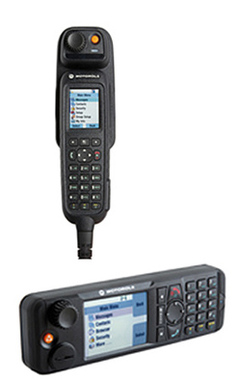 MTM5500 TETRA Mobile Radios
The MTM5500 is a highly flexible and capable system radio which permits the installation of multiple control heads. Up to 40m from the radio for a total of 80m on a train or boat. The new Telephone Style Control Head provides an alternative method to
control the radio and make voice and data calls.
Safer. Smarter. Faster
Extended operational range. Enhanced end to end encryption options. Superior audio performance. Advanced terminal management. High speed data connectivity. Low user migrations costs.

Hear and be heard in diffi cult environments with enhanced audio
Stay in touch with great coverage, improved Rx sensitivity and high power options
Versatile installation connects end users in and around the vehicle, up to 40m from the radio with the MTM5500
Control the radio and make voice and data calls inside or outside the vehicle with the Telephone Style Control Head
Be ready for TEDS, for faster data communications to improve efficiency and safety
Link to Data devices for flexibility and powerful applications
All articles
+
Show all datafields
-
Hide datafield
| Choose amount | | | | | |
| --- | --- | --- | --- | --- | --- |
| | MO171901 | MTM5500 380-430MHZ REMOTE MT95 | Vechicle mobile phones | TETRA | Vehicle |
| Choose amount | | | | | |
| --- | --- | --- | --- | --- | --- |
| | MO171901 | MTM5500 380-430MHZ REMOTE MT95 | Vechicle mobile phones | TETRA | Vehicle |
MTM5500 380-430MHZ REMOTE MT95
Type of product
Vechicle mobile phones
Operating environment
Vehicle